Coffee | Cupcakes | Chocolate | Comfort
Cold and rainy days always call for ways to find comfort and be soothed by hot coffee and baked goods, which means a good bakery is indispensable these days. From market classics serving up traditional French pastries to a variety of savory treats; the shops on this list are a beacon of crispy, flakey, sugary hope.
When it comes to coffee and tea, Bainbridge Island has many tried-and-true industry veterans, solid neighborhood cafes, and a few quirky spots that contribute to our love of our unique dining experiences.
I am not a coffee drinker, so I have learned to order a complicated hot chocolate, so I feel like I fit in the NW. Because my expertise is not in coffee, I will share with you that the absolute best hot chocolate is available at L'ATELIER TR. Located in an industrial area, they have become a true destination bakery with offerings like handmade Belgian chocolates, sweet and savory waffles, cakes, and European pastries. Not the most elegant space, but oh, so good.
Downtown Winslow
A perennial favorite among local and tourists alike, Blackbird serves everything from coffee, pastries, cakes and pie (whole or by the slice), house made granola, seasonal soups, fresh bread, and TOAST! Holidays and special occasions are handily dealt with courtesy of their special orders. Adjacent to Blackbird is Madrone Lane where you will find tables with umbrellas – but no cars.
Indoor casual dining when allowed, also a few outside tables. Recently expanded their menu selections for breakfast and lunch, added wine, beer, and ice cream. Grab a cup and a sandwich for an impromptu picnic at nearby Waterfront Park. I like the energy bites on the go!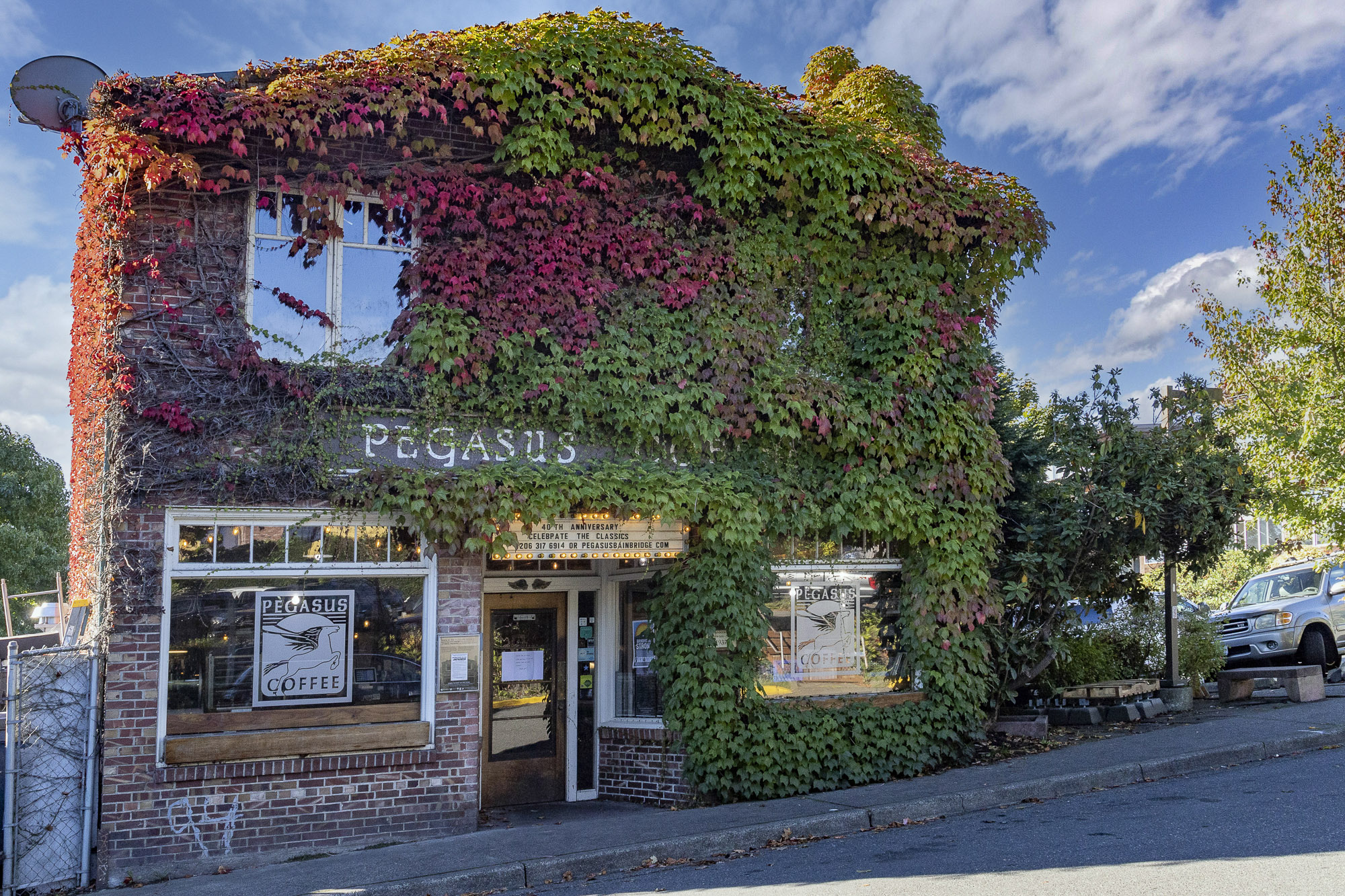 Charming old building located down by the waterfront. Offers indoor and outdoor seating on a small patio with space heaters. Friendly staff and scratch made healthy foods. An Island institution since 1980.
The cutest and most dangerous kiosk you have ever visited, Coquette is my absolute favorite bakery on Bainbridge. Located in Winslow Mall, set back from the street, and there is always a line. It takes all of my willpower to stay away from Coquette and now that Windermere has opened our new office right across the street… see you in line.
Affectionately known to locals as T&C; Town and Country is a full service grocery store. There is a coffee shop inside, as well as a pizza oven, sushi bar, and more. It's very convenient (and delicious) to grab a few things to go when you are on the run.
Chef, Owner, and James Beard Award winner Brendan McGill, owns and operates 3 restaurants on Bainbridge Island.  At Hitchcock Deli you can get fresh brewed specialty coffees all day. The chef has also started a street food smoking option for lunch, and there is often a line on weekends.  Hitchcock is in the heart of town on Winslow Way on the south side of the street.
Sometimes catching an early morning ferry means not having enough time to make coffee, or plenty of extra time for coffee because you didn't make it on the last boat. Service is swift with a smile to get you on your way, and offerings include baked goods and cold drinks.
Center of the Island | Off the Beaten Path
Storyville's Bainbridge location is in the Coppertop Industrial Building off Sportsman Club road. Equal parts roasting facility, coffee shop, and self-described creative space and gallery; it is a unique experience.
Rolling Bay Café has been a part of this community for many years. It is attached to the Building housing Bay Hay and Feed and the Rolling Bay Post Office. It is a small community coffee shop serving baked goods, soups, and sandwiches. Grab a cup and stroll through Bay Hay and Feed shop, garden store, and fresh farm grown grocery section. A charming place to spend a little time and find something surprising that you can't live without.
For those who prefer the company they know, there are 2 Starbucks on Bainbridge Island – both in the Safeway shopping center.  There is a proper coffee shop at the South west corner of the parking lot, and a Starbucks kiosk inside Safeway.
Southend | Lynwood Center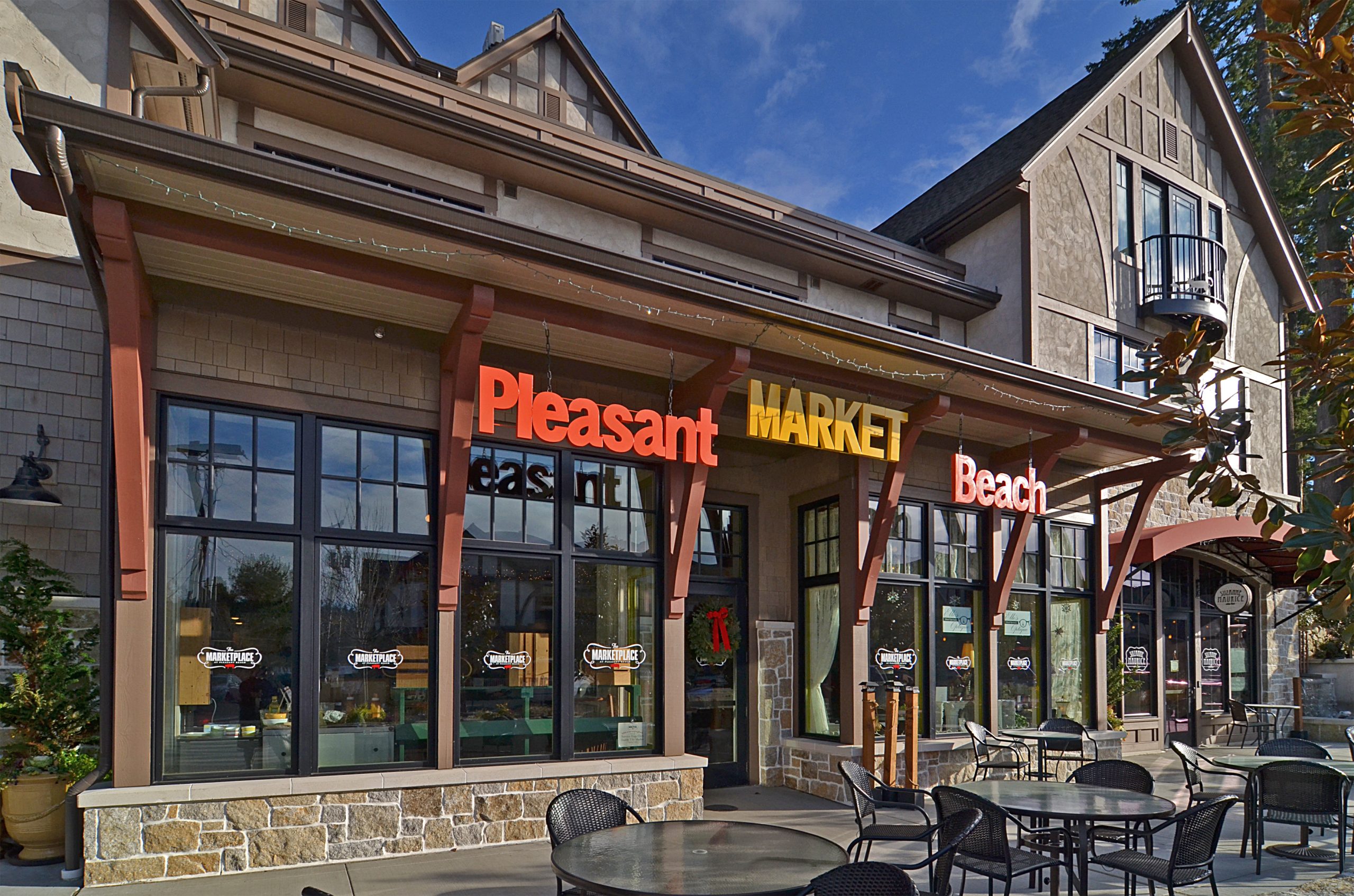 The Market Place at Pleasant Beach
The Marketplace is a neighborhood gathering spot for meeting family, friends, and neighbors. Their coffeehouse, delicatessen and tap room offer a wide variety of quality food and drink – all with an emphasis on local. Located in Pleasant Beach Village, this open-air shopping center offers a multitude of dining options, lodging, and services. It is also the home of PAWS where I personally have adopted 2 cats!